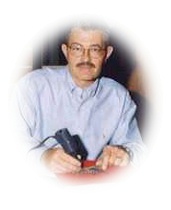 Ben Cordsen was born and raised in Northern Colorado at the foot of the Rockies where he lives with his wife, children's book author Carol Foskett Cordsen, and their family.


From a childhood interest in drawing and modeling animals and figurines out of clay, he has developed a self taught talent in sculpting. His subject matter is varied. Animals, humans, buildings, dogs, cats, the list is endless.

Ben oversees each step of the casting process, converting his original sculpture from a fragile clay or wax creation to a permanent heirloom quality sculpture in handcrafted bronze or pewter.
Ben's sculptures have been commissioned and designed for many corporations and organizations, including the Shell Oil Company, Disney Corporation, Enesco Gifts and Universities across the country. Wildlife and conservation groups include Ducks Unlimited, Trout Unlimited, Audubon Society and others. His art is found in many private and public collections today. Ben's attention to detail and form results in a sculpture that "tells a story," while bringing a smile to the faces of collectors of his unique works of art.